Packet
Our Echo PCI Voice Packetizers provide powerful features for building advanced Digital Voice Recorders. Each unit combines a compact form factor with very low power consumption resulting in unmatched reliability.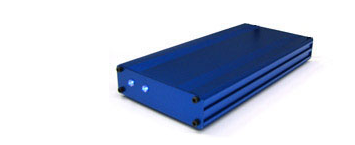 It uses embedded DSP arrays for D-channel decoding, voice processing and IP packet streaming.
D-channel signalling supports Call Setup, Connect, Clear, DDI number and CLI number decoding. It also supports all major ISDN variants, Q.SIG, DASS-2, DPNSS and various PBX Digital handset D-channel protocols.
Highly secure encrypted IP streaming of the mixed upstream and downstream sides of a conversation.
The speech encoding/compression is 64kbit/s A-law (G.711), 36kbit/s proprietary encoding. The estimated MTBF is 600,000 hours.
---
Features & benefits
Compact aluminium box with telecoms interfaces and 10/100 Mbit/s Ethernet port
Non intrusive and undetectable high impedance passive monitoring
Dialled number and Caller ID signalling support
Digital Signal Processor Arrays for voice streaming and D-channel protocol processing
Models for PRI-ISDN, T1-ISDN, BRI-ISDN, Digital handsets and Analog handset / trunk lines
8 channel and 16 channel Analog, Digital handset and
4-wire S0 bus
models
Fractional, 30 channel and 60 channel PRI-ISDN / E1 models
23 channel and 46 channel T1-ISDN models
Protocol support for all major ISDN variants, Q.SIG, DASS-2 and DPNSS.
Analog models support DTMF, FSK Caller ID, AGC and speech detection
Digital models support all major PBXs with highly accurate DigitalVox start/stop triggering and D-channel support for various PBXs
Supports Windows XP SP3, Vista, 7, 8, 10, Server 2003, 2008 and 2012
Driver support for all 32-bit and 64-bit Windows versions
Remote TCP/IP accessibility for system configuration and FLASH memory upgrading
Fully stand-alone embedded operation
Redundant power supplies and full hot-swap facility for the plug-in modules
64kbit/s A-law and high quality compressed 36kbit/s speech encoding
Supports writing of directly playable WAV files to disk
Highly secure encrypted IP streaming
Custom IP output formats possible for supporting existing IP Recording systems
CE, FCC and RoHS compliance
---
Technical specifications
Mechanical Characteristics
Compact aluminium box with external power supply adaptor
Operating temperature
0 oC to +60 oC
Humidity
5% to 80% non-condensing
Maximum power requirements
+5Vdc (400 mA), +12Vdc (50 mA), -12Vdc (50 mA)
Operating Systems supported
All 32-bit and 64-bit Windows editions
Maximum density
Virtually unlimited, 2000+ ports total

---

Interface specifications

Primary Rate Interface
E1 (2.048Mbit/s), T1 (1.544Mbit/s)
AC impedance
1100 Ω
Maximum tap length
10m (unterminated), 100m (terminated)
Protocols
All major ISDN variants, Q.SIG, DASS-2, DPNSS