Echo
Secure, integrated platform for recording
ISDN and VOIP phone calls
Overview
Echo adds call recording capabilities to your existing TIM Plus® or TIM Enterprise® call logger.
It captures live VoIP traffic from a network or connects to physical ISDN lines using our hardware devices to transform your TIM Plus or TIM Enterprise product into a secure voice recording platform for listening to all of your calls.
By linking Echo with your call logger, any time you see an itemised phone call - in a report or a call search list - you can simply click on that call to hear the audio recording for it.
And because it's fully integrated, you use the exact same web interface you're already familiar with.
---
What can it record?
Echo can record the following types of phone calls:
VoIP sessions
SIP / SCCP RTP recording with no additional hardware required
Analogue/POTS
Traditional analogue POTS/CO lines using our inexpensive tap devices

How it works
Unlike other systems, Echo stores the voice recording against the user, not the phone line or SIP trunk.
This makes finding voice recordings simple because you use the existing search tools in your call logger that you're already familiar with.
Because Echo and your call logger communicate with each other, they can reconcile the detailed phone call information from the call logger with the audio recording events from Echo.
Features
Echo brings an array of additional features to your TIM Plus or TIM Enterprise call logger:
Click to play
Wherever you see an itemised call in any of your call logging reports or call search results, you can simply click on the call and listen to it!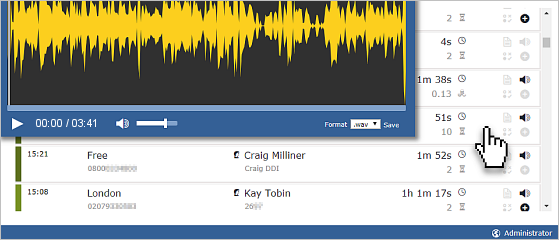 Call masking
Data protection and compliance (PCI-DSS, MiFID, GDPR) may require you to mask out parts of calls that contain personal/sensitive information such as credit card numbers.
Echo provides tools - including a browser plug-in - to allow you to do this for every phone call, when you visit certain web pages, by typing a sequence on your telephone keypad, or through the Echo API.
Call annotation
As well as storing the audio of a call, you can add your own textual notes, too.
API
Because Echo is built on HTTPS, you'll get secure, tokenized access to all of your recordings for integration with other, third-party applications and systems.
Call auditing
You'll be able to find out who and when people have listened to a specific call from right inside your call logger.
Safety & security
Echo provides a range of tools and security features to help you comply with data protection legislation, including automatic removal of old recordings and the ability to provide details of - and remove - specific calls.
With an HTTPS interface, 256-bit AES key encryption of recordings, and built-in user access controls, your recordings won't get into the wrong hands.
---
Summary
In summary, Echo gives you a fully-integrated, feature-rich, secure call logging and recording solution, regardless of the number of sites, phone systems of line types you use.