Phone Bill
The Phone Bill report is primarily for use in situations where you need to produce a telephone bill for a client or a group of clients. For example, in a business centre, hospital, hotel or any other organisation with a front-of-house function and where a client may use your telephony services, for which you need to recoup the costs.
The result is a fully-fledged telephone bill - in the same style as one you'd expect to receive from a major telephone company.
As with all reports, the actual style of the finished article can be customised completely using any HTML-compliant editor, enabling you to completely brand the output in the style of your own company including personalized headers and footers.
Example output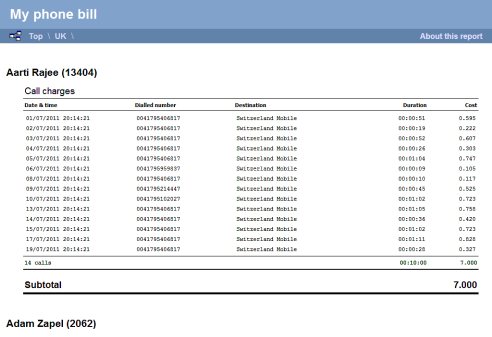 Features
The Phone Bill can be run on an ad-hoc basis or scheduled to be produced automatically at predetermined periods. Different users, group or sites can be marked up at different rates and all results can be automatically set to report to web, PDF, CSV, XML or Excel which should suit pretty much any billing scenario.
Options
Telephone bills can be produced for any of your sites, individually or aggregated.
In addition, bills can be fully itemised or summarised by extension group, individual extension.
A markup and/or surcharge can be applied to each call globally, and when coupled with the flexible tariff routing which allows you to bill individual extensions at different rates, you have complete control over how and what you charge.
Bills can be completely customised by adding your own header or footer e.g. The header may be your logo while the footer might provide details of who to contact in the event of a bill query.