Enterprise Overview
The Enterprise Overview reports allow you to see call summaries for each call type, inbound, outbound and missed calls for all of your organisation or for any particular group or section.
By simply clicking on the site, group or user you're interested in, the report zooms in to show the next tier of information. You can zoom in further to get right down to a particular extension to see a detailed itemised list of all call activity on that extension.
When running as a web report, you can identify the areas of your business you want to inspect further, and simply 'drill-down' into them.
Totals, maximums and averages are displayed at the foot of each column.
Example output
This first report shows all sites in the UK: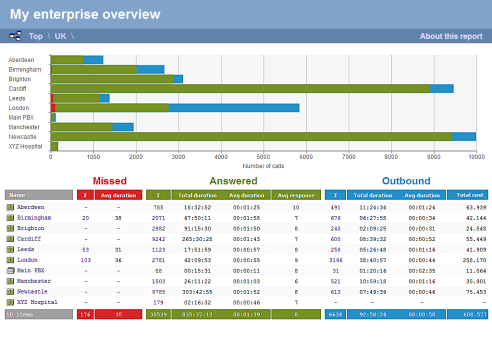 This screen shows the results of drilling-down into calls for the Accounts Payable team and re-ordering by name in alphabetical order: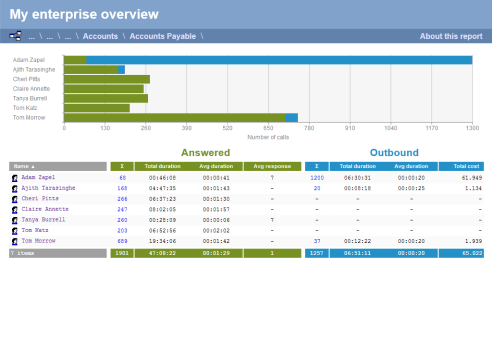 Features
The Enterprise Overview report is perfect for allowing you to get a quick snapshot of what's happening on all sites or departments. Because of the hyperlinks contained within this report, it is incredibly easy to drill up and down through it to see more detail on any area of interest, including calls for any individual as shown below. The report contains tabs to allow you to easily identity a particular type of call e.g. Outbound only.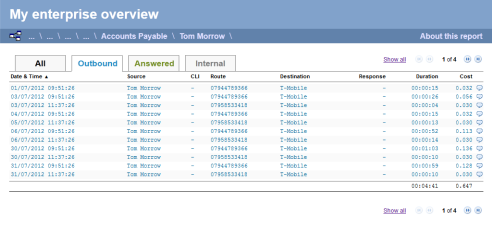 This is probably the most heavily used report on the system because of the ease with which you can go from a quick overview right down to detailed call information.
Options
You can control access by setting the users access permissions so the results only display information relevant to their needs. This is particularly important when a user with restricted access rights wishes to run the report.
As with all reports, you can select filters to exclude weekend calls, very short calls, users with no calls etc.