Call Analysis
Breaks down your working day into half-hour segments and details important information about your calls. You get a clear graphical representation of how many outbound, answered and abandoned calls you've made.
Figures are shown as maximum and averages so you can more effectively plan your staffing requirements throughout each working day.
Example output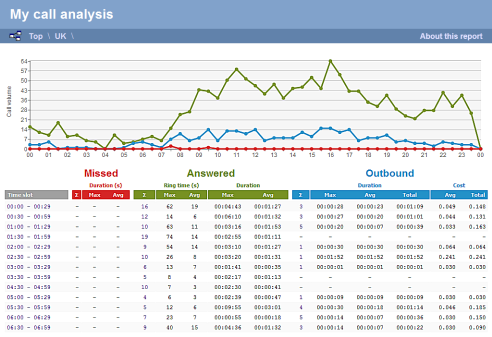 Features
The report allows you to see call activity at a glance, showing call volumes for inbound, lost and outbound calls.
Analysis of call traffic is perfect for those who are responsible for monitoring and allocating staff resources. Analysis of lost calls will help identify and hopefully alleviate the problem by either changing staffing hours or reallocating staff.
The report can be run on an ad-hoc basis or scheduled to run automatically at pre-determined times. You can run to web, PDF, Excel, CSV or XML.
When running or viewing as a web report, you can reorder on-the-fly, by simply clicking on any report header. You can also drill-down further by clicking on any of the hyper-links shown in the report.
Options
You have the option to report on all sites, groups or even specific users. You can restrict the report to a specific site or specific dates and times.
You may also choose to report only on specific call types e.g. inbound, outbound calls.
Filters can be applied to report only on calls to specific destinations, LCR codes, trunk access codes or dialled numbers. You can even choose to exclude certain calls e.g. weekend calls or calls below a minimum duration.