Busy Channels
This report allows you to break down each business day into half-hour periods, showing the maximum and average number of telephone lines in use in any particular half-hour.
This report is ideal for determining whether or not you have enough lines, or if you have too many! After all, why should you spend thousands renting lines you never use?
Your login privileges will determine where you can report on but if allowed, you will be able to start by doing a report on all sites, and then drill-down to monitor line utilisation on each.
Running this report over longer periods increases the accuracy of its results!
Example output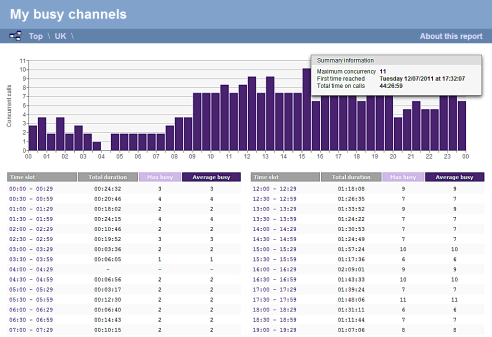 Features
This report can help in line provision decision-making, allowing you to analyse traffic to certain dialled destinations, as well as the standard individual and groups of trunks. This information could be used in determining whether private networks are necessary between your sites, or in deciding which carrier would be able to route your calls cheaper.
The inclusive graph shows maximum and average high-points and, based on its predictive information, will highlight 'danger times' when you can expect all of your trunks to be busy, and therefore unable to take further calls.
The report can be run on an ad-hoc basis or scheduled to run automatically at pre-determined times. You can run to web, PDF, Excel, CSV or XML. When running as a web report, note that all headers are fully clickable and results can be reordered on-the-fly! You can also drill-down for more details by clicking on any of the hyperlinks contained within the report.
Filters
The advanced filtering options on TIM Enterprise will allow you add numerous filters to your busy channels report. For example, you may want to look at how busy your lines are with a particular call type, say, inbound DDI calls only. Alternatively you may want to look at how many channels are used calling specific dialed numbers or destinations. You may even want to look at particular channel groups and report on how effectively they are being utilised.
Options
You have the option to report on all channels, any group of channels or even specific channels. You can restrict the report to a specific site or specific dates and times.
You may also choose to report on how busy your channels are dealing with specific call types e.g. inbound, outbound, tandem etc.
Filters can be applied to report only on calls to specific destinations, LCR codes, trunk access codes or dialled numbers. You can even choose to exclude certain calls e.g. weekend calls.